Filter
Waterpik Whitening Water Flosser Combo Pack
1161611
: In stock
: Oral Care
Features: Provides all the Clinically Proven Benefits of Water Flossing Plus Extra Teeth Whitening Restores Your Teeth's Natural Whiteness in just 4...
QUESTIONS & ANSWERS
Have a Question?
Be the first to ask a question about this.
Ask a Question
Features:
Provides all the Clinically Proven Benefits of Water Flossing Plus Extra Teeth Whitening
Restores Your Teeth's Natural Whiteness in just 4 Weeks While You Floss
Removes up to 25% More Stains than Brushing Alone
Takes Just 1 Minute a Day for Whiter Teeth and a Cleaner, Fresher, Healthier Mouth
Includes: Waterpik Whitening Water Flosser, 120 Whitening Tablets, 6 Accessory Tips and 1 Tip Storage Case
Product Details
Product details have been supplied by the manufacturer and are hosted by a third party.
What's In the Box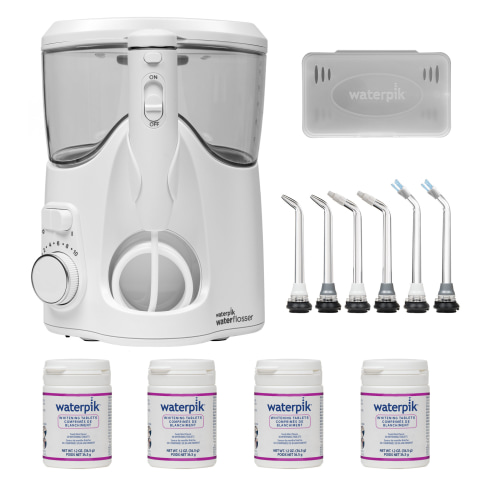 Restore Natural Whiteness
Whiten While You Floss
The Waterpik Whitening Water Flosser WF-06 restores your natural whiteness while you floss. Use one whitening tablet a day to get the white smile you want in just 4 weeks.
Leaves your mouth feeling incredibly fresh and clean
Removes hard-to-reach stains that other products miss
Tested and trusted - Accepted by the American Dental Association (ADA)
Safe and Gentle Teeth Whitening + Flossing
Proven safe on teeth and gums – as gentle as regular toothpaste
Delivers whitening and flossing in one device
Takes just 1 minute a day for whiter teeth and a cleaner, fresher, healthier mouth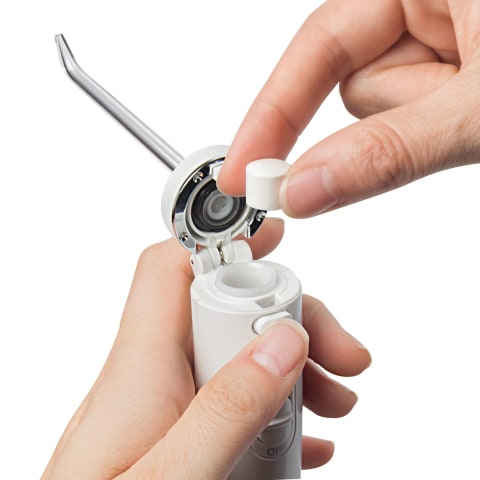 Whitening Tablets
Use one tablet daily (120 tablets included)
Place in the infuser built into the flosser handle to remove stains from hard-to-reach areas, between teeth, and at the gumline
Minty flavor helps freshen breath
Easy and Effective
Just 1-Minute A Day
Clinically proven to remove 25% more stains vs. brushing alone
Removes up to 99.9% of plaque from treated areas
Up to 50% more effective for improving gum health vs. string floss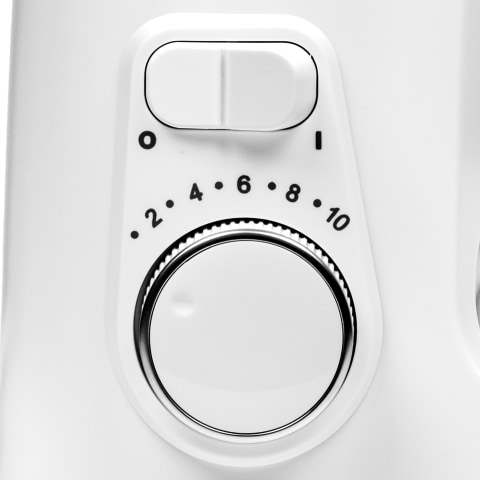 Variable Settings
An advanced pressure control system
Adjust water pressure to your liking -- 1 (gentle) to 10 (maximum cleansing)
Covered Reservoir
Reservoir cover hides tip storage
Reservoir holds 22 ounces of water for 90 seconds of flossing and whitening
Whitening Water Flosser Manual
FAQ
Can I use the Whitening Water Flosser with the tablet more than once daily?
Yes, the tablet is as gentle as regular toothpaste. Since it does not contain bleach, sensitivity should not be an issue.
Can the Whitening Water Flosser be used without the tablet?
Yes, it can. Without the tablet, it functions just like a regular Water Flosser. 
What is in the whitening tablet?
The tablet contains glycine, a mild abrasive that removes stains and is as gentle as regular toothpaste.
All ingredients (inactive): Glycine, xylitol, sucralose, flavor (aroma), copovidone (VP/VA copolymer), sodium lauryl sulfate, dextrin, magnesium stearate, silica
If I just completed a whitening treatment can I use this product?
Yes, the Whitening Water Flosser provides ideal support for those who have had a whitening treatment.
What setting should the Water Flosser be used on?
The Water Flosser has been clinically proven to be safe in all settings. First time users should start out at the lowest pressure setting then gently increase the pressure to the highest setting that feels comfortable.
How long does it take to Water Floss?
It takes about 1 minute per day to use the Waterpik Whitening Water Flosser.
Is it safe to use on dental work?
Yes, the Whitening Water Flosser and tablets are safe for crowns, veneers, bonded restorations, implants, braces, and orthodontic appliances.
What about gum disease?
Gum disease prevention and treatment requires good daily care at home. If you suspect you have gum disease, consult with your dental professional. Adding the Waterpik Whitening Water Flosser to your oral care routine can be one of the most effective ways to improve gum health. And because it removes plaque and bacteria, the Water Flosser also helps freshen breath.
Do I need to clean the unit each time after I use a tablet?
No, the action of the tablet is limited to the handle. You can clean this product as needed like any other Water Flosser.
How do I clean a Water Flosser?
Before cleaning, unplug from the electrical outlet. Clean the exterior of the product when necessary by using a soft cloth and mild non-abrasive cleanser. The water reservoir is removable for easy cleaning and is top rack dishwasher safe. 
To remove hard water deposits, add 2 tablespoons of white vinegar to a full reservoir of warm water. Set pressure control dial to high and point the handle and tip into sink. Turn power and water switch ON and run until reservoir is empty. Rinse by repeating with a full reservoir of clean warm water.
Is this device global voltage compatible?
The Whitening Water Flosser is for use in North America only; 120VAC/60Hz.
What is the warranty period?
The Whitening Water Flosser comes with a limited 3-year warranty, visit waterpik.com/warranty or call our support team at 1-800-525-2774 for additional warranty information
Customer Service
Have questions or need assistance? Call the Waterpik toll-free customer assistance line any time on Monday – Friday, 7:00 A.M. – 5:00 P.M. MST.
1-800-859-5115
Water Pik, Inc. a subsidiary of Church & Dwight Co., Inc.
1730 E. Prospect Road, Fort Collins, CO 80553
Comparison Chart
Specifications
Number of Tips Included
6
>Standard delivered 4-5 Business Days
Express delivered 2-4 Business Days
Orders are processed and delivered Monday-Friday (excluding public holidays)
For our return policy, check our Returns Policy page.