Filter
AutoFloorGuard 8.5'x20' SUV/Truck Vehicle Containment Mat
1386083
: In stock
: Garage Flooring
Features: 8.5'W x 20'L, Built-in Containment Edge Heat-Sealed Watertight Seams Foldable For Easy Storage Commercial Grade Fabric Squeegee with Telescoping Pole &...
QUESTIONS & ANSWERS
Have a Question?
Be the first to ask a question about this.
Ask a Question
Features:
8.5'W x 20'L, Built-in Containment Edge
Heat-Sealed Watertight Seams
Foldable For Easy Storage
Commercial Grade Fabric
Squeegee with Telescoping Pole & Stay-Put Corners Included
Product Details
Product details have been supplied by the manufacturer and are hosted by a third party
SUV/TRUCK
AutoFloorGuard has many uses. Whether you enjoy working on your new hot rod or classic car and don't want to worry about fluids leaking, or you simply want to prevent snow, ice and mud from being tracked into your house, you'll see the benefit of AutoFloorGuard's long-lasting garage floor protection! AutoFloorGuard not only protects garage floors, but workshops, aircraft hangers, outdoor painting projects and much more!
All AutoFloorGuard containment mats are made from a special commercial grade PVC fabric, used and trusted by the trucking industry and built to handle American's toughest conditions. Our AFG fabric has been tested to -40 degrees and is mildew and rot resistant. It is also ultraviolet treated to resist fading and prevent fabric breakdown.
NOTE: The AFG mat is slippery when wet! Please use caution when walking or driving on your mat and be careful not to turn wheels while on the mat as this could cause damage. Daily removal of fluids and debris is recommended as excessive water build-up, and subfreezing temperatures may result in ice forming around the tires, causing the fabric to tear. Your AFG mat has a containment edge, take extra care when walking in front or in the rear of your vehicle.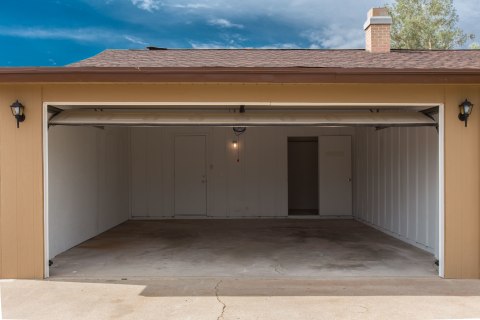 Frequently Asked Questions
Do I need to assemble my AutoFloorGuard?
No, the product comes ready to use. Just open the box carefully, and unfold the AFG.
Note: Temporary creasing and wrinkles will occur during shipping.  See below for corrective suggestions.
What Colors are available?
Black. In our years of selling custom-made containment mats, this has overwhelmingly been our top seller and customer favorite.
What sizes are available?
Compact (Blue Label) is approximately 7'9" x 16' = 124 sq. ft.
Mid-Size (Red Label) is approximately 7'9" x 18' = 139.5 sq. ft.    
Large SUV/Truck (Green Label) is approximately 8'6" x 20' = 170 sq. ft.
Each of AutoFloorGuard also comes with an overall finished 1.25" Closed Cell Foam Containment edge.
How do I know what size AFG I need?
We recommend checking the length and width of your vehicle (search on web – Year, Make and Model specifications) and adding at least a 1-foot overlap to the front and back of your vehicle to ensure that you have adequate coverage. Then match it up with the corresponding mat size. Additional factors to consider:
Length and width of Garage (Can in-stock AFG's fit into garage?)
Are you trying to fit two AFG's into your Garage? (Will they overlap?)
Stuff in the Garage (how tight do I need width and length to be to fit?)
Height of Vehicle (if snow falls off my car is it going to splash over containment edge?)
What side do people get out of the car? (What side of car can I cheat on?)
Given the considerations above, ideally you want to step over the containment edge when exiting the vehicle and or navigating your garage.
Which side is "up"?
AFG mats should be placed with the seam side up to:
Create more of a tray effect to collect rain, snow, mud or other fluids.

Provide a slight texture to the mat, making it less slippery overall.

Allow the mat to lay flatter on the garage floor.
I opened the box and the AFG has some creases and wrinkles in the fabric. Do they go away?
The product's heavy-duty woven fabric, infused with PVC for strength and durability, will need to relax after it has been in the box since manufacturing. Over time and when used as intended, especially when the mat fills up with water and is cleaned by broom or squeegee, the wrinkles will relax. Our new included Stay-Put-Corners will also help by keeping the corners down and the mat slightly stretched.
What are Stay-Put-Corners?
The New Stay-Put-Corners are now included in all our AFG units. They are 4 sets (8 squares) of industrial Velcro. Each set is comprised of 2 pieces. One is used to adhere to the mat and the other is to adhere to the floor. The new Stay-Put-Corners help the following conditions:
If after unboxing AFG you find the mat has excessive wrinkles and creases or the corners don't sit flat, installing the Stay-Put Corners will help by holding the corners down and slightly stretching the mat helping with the wrinkles and creases.
If you experience wind gusts that lift your mat when pulling in or out of the garage, the Stay-Put-Corners help by adhering the mat's corners to the garage floor.
If your AFG slightly slides out of place from its intended position due to an occasional hot tire sticking or when using a squeegee or broom to push out accumulated liquids, the Stay-Put-Corners help keep the mat adhered to its intended position.
Stay-Put Corners must be used with caution if you have a painted, tiled or finished garage floor as the glue may pull up any coated surface.
How do I attach my Stay-Put-Corners?
The first step is to get the proper location of your AutoFloorGuard in your garage. Then, make sure that each corner of the mat where the Stay-Put Corners are going to be placed is dry and clean. We know many customers are installing our mats during the winter when it's cold; the best way is to clean the area with a cleaning cloth and use a hair dryer on a high setting which will dry and heat up the floor for application of the corners.
You will have two pads for each corner: one for the mat and one for the floor. We recommend using gentle heat to apply the mat-side pad. Place the pad within about 6 inches of each edge of the mat. Press firmly. Then, attach the Velcro of the floor pad to the Velcro of the mat pad. Apply heat to the floor and slightly heat the glue side of the floor pad. Push down to the floor. Step firmly on the corner and let it adhere. Repeat for each corner. Be careful not to pull too hard when attaching the other corners.
We have also provided instructions in the attachment on this page - Warranty and Stay-Put-Corner Installation Guide.
What applications is this product designed for?
AutoFloorGuard mats are designed for commercial/residential use in garages, workshops, showrooms, warehouses, construction sites, offices, aircraft hangars and where quick portable coverage is needed to prevent moisture, stains, snow, mud from damaging your floor or other important items.
What tools are needed for installation?
No special tools are required. Just be careful when you open the box not to use a sharp object which could cut the fabric and void any warranty.
Is there any special prep work required before installation?
Sweeping or blowing the floor prior to installation is recommended. Take care to remove any sharp edges or old paint/caulk on your floor that could cause indentations in the mat.
How do the raised edges stand up to constant tires driving over them?
Our specially designed edges are made of 1.18" round high density closed cell foam that keeps its shape even after driving over it. If the foam on either end begins to lose firmness, simply rotate mat front-to-back. Finished edges are slightly larger than foam size because of fabric wrapped around the foam.
Does AFG have anti-slip properties?
The Seam side has some slip-resistant texture, and it is less slippery than the reverse.
Does the AFG provide insulation?
AFG does not provide any thermal insulation protection, but it does provide a vapor barrier to prevent moisture rising from the floor.  This can be particularly important when used under stationary vehicles, like classic cars, which can otherwise accumulate rust over time from such moisture.
Will moisture, oil, snow or mud leak through to my floor?
AFG's reinforced heat-sealed watertight seams, and our commercial grade PVC infused fabric, will not allow liquids to leak through.
How should we clean/maintain the product?
Placing the mat on a clean surface will help maintain a longer life for your AFG. Clean the mat daily with a soft bristle broom, mop, or squeegee. We recommend keeping the edge of the AFG mat right before garage door near the threshold and hosing the AFG with a mild kitchen detergent to remove dirt and debris. If mat is soiled with oil and other chemicals please use proper disposal, (check with your local government).
My AFG has a rip/tear in it. Can I fix it?
Yes. We have tested a simple repair method using a readily available patch called "Tear-Aid Type B" available online. The best way to repair a tear or rip in your AFG is to follow the instructions on Tear-Aid Type B patch. Clean the affected area with rubbing alcohol and let dry, then place on patch (slightly larger than tear) on each side of the mat.
Can an AutoFloorGuard be used outdoors?
Yes, however even though AutoFloorGuard mats are infused with a UV-inhibitor, prolonged sun exposure can eventually cause color fading.
How does AutoFloorGuard Compare to the Competition?
AFG uses a rectangle design to cover more spillage area

3 in-stock sizes that cover more than 95% of the Automobiles in the market

AFG has the strongest fabric. (Our fabric is constructed of Polyester Scrim intertwined with PVC that has been used for years in the trucking industry for longevity and durability).

Simple Installation - roll it out and it is ready to use (

no assembly required

)

Simple Storage (nothing to take apart)
I left my car parked on the raised containment edge and it doesn't seem to have as good an edge as it used to...how can I fix that?
First, rotate the AFG from front-to-back so the front end would now be closest to the garage threshold. Or, if you prefer, replace the original 1.18" closed cell foam with a standard rubber hose which can be pushed into the sleeve holding the foam piping.
What is the Warranty?
AutoFloorGuard warrants your product to be free from defects in material and workmanship for a period of 365 days from the date of purchase, subject to the following conditions and limitations:
Conditions:
Warranty period is determined by date of purchase from AFG direct or authorized resellers of AutoFloorGuard. (Please keep original purchase receipt).
Limitations:
This warranty does not cover the following:
Improper installation of AFG. (Didn't follow instructions)

Slight size variations in finished product compared to custom or stated size on web and product box due to heat-sealing of edges

Damage from acts of nature, or placement of the AFG on any surface that is not smooth and flat

Use with snow chains or studded snow tires

Burns caused by hot objects or open flames.

Punctures caused by rocks and other sharp objects. (like shovels and rakes)

Use of solvents, chemicals and abrasive detergents to clean the AFG. (e.g. bleach)

Discoloration of the vinyl sheeting that may occur over time from direct or indirect light

Normal wear and tear
---
Specifications
Mat Size
8 ft. 6 in. x 20 ft.
>Standard delivered 4-5 Business Days
Express delivered 2-4 Business Days
Orders are processed and delivered Monday-Friday (excluding public holidays)
For our return policy, check our Returns Policy page.